When I went in for my vo2 max test for running, the instructor (tester?), Ken, not only called me a runner...he called me a
good
runner...and a
strong
runner. Make no mistake, he didn't call me a
fast
runner...but a runner nonetheless. This makes me happy.
Home of the Vo2 Max test.
It's always kind of irritated me when I hear people say they are really slow... at 10 or 11 minute miles. Kind of like when I was in school and people would say they did awful on an exam, only to find out they are the ones that ruined the curve. Anyway, no, sorry, a 25 minute 5K is not slow. I'd feel like a complete and total rock star if I could pull off those times. There's a difference between "not fast" and "slow" and it's called middle of the pack.
But... we are all individuals and created differently. To the people who are running 10 or 11 minute miles but know they can do better, I suppose that
IS
slow. It's all relative. Meanwhile, I have apparently been running too fast. Yes, that's right, my
13+ minute miles
have been too fast. Seriously? If I slow down any more I'm going to have to speed up to stop!! #kidding
#notkidding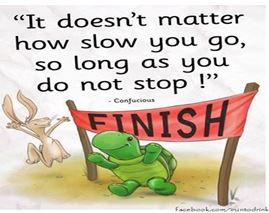 Anyway.... my vo2 max test revealed that my zone 2 is a nice 13.5-15 minute per mile pace. That's
walking
for most people. You have to work hard to *
run
* at that pace. But alas, that's where I'm at. And training in my appropriate zones will make me a better runner. We'll see...
So here I am, trudging along at my slower-than-molasses pace, doing my 30 runs in 30 days challenge. It's been interesting trying to map out my perceived efforts with the appropriate heart rate zones. I've been doing more running than walking though, and even dropping a lot of my walk intervals, only walking when my heart rate gets too high. My long runs can continue to be run/walk intervals, but Coach Ken suggested that I start increasing the run/walk ration to 3/1..5/1...7/1... 10/1?
And then, wouldn't you know it?! Right before I was supposed to run the Schaeffer Farms 5K.... another injury! At some point the outside of my left foot around my ankle started hurting. After a little internet investigation, I self diagnosed myself with
peroneal tendonitis
. Humph. At least this is just an overuse injury that I am hopeful will heal on its own with ice and the use of a brace, though it did mean I had to walk a few more of my 30 "runs" than I had initially intended.
Though for full disclosure, this was not the main reason I skipped that 5K... such a long drive to Germantown, MD for only 3 miles, and I had plans that would prevent me from having brunch with the girls afterward so really, what's the point?!
Beautiful Saturday morning run!
The 30 runs challenge also sparked some creativity. I've started taking advantage of the treadmill in my office gym (usually those are just walks so that I don't have to take a shower when I'm done). I have had Jon drop me off a few miles away from home after we've been out. There were beautiful days on the trail when I got to catch the last of the leaves changing colors, and there were freezing days when all I could think of was a hot shower. There were days when my heart rate would sky rocket and I was "running" an 18 min/mi pace (too many layers of clothing??) and days that I was just cruising along able to keep my heart rate in zone 2 with no problems.
This is also the field where I used to play soccer with Joann...miss those days.
Luckily, that pesky little injury didn't take long to heal. Oh, and remember those hard track workouts I was so nervous about?? No biggie!! It's hard, no doubt, but doable. I struggle with the heart rate though. Often when the plan calls for zone 3, my heart rate jumps into zone 4 and stays there, and sometimes even gets as high as zone 5. When I'm supposed to be in zone 4, forget it, I'm off the charts. Then, Coach Ed has been talking to me about my running form and cadence, but as I try to increase my cadence, my heart rate gets even higher. UGH. I guess I just have to work at it. Coach Ed reiterated to me that I just need to suck up my pride and slow down - even walk - to keep my heart rate where the plan calls for, and that if I stay with the science, I will improve. Trust the training. And.. if/when I get *too* frustrated, I can get tested again in 6 to 8 or 12 weeks.
Number of runs per day in November...
Had to double up those last couple days thanks to my New Orleans adventure!
I must say, I feel I ran a
successful Turkey Trot
on Thanksgiving, and probably have the training to thank for that. Patience, Jen. I do wish it had been a 5K so that I might've been able to run the entire thing (instead, I took 2 walk breaks). As such, I signed up for a Jingle Bell 5K next weekend to see if I can do it. Anyway, another successful challenge is in the books. 30 runs in 30 days completed. November totals:
Swim: 2h 42m - 5750 M
Bike: 4h 15m 22s - 58.42 Mi (it's a start)
Run: 15h 19m 27s - 53.54 Mi (so much time, so little distance)
Not really running related, but the highlight of my month was my trip to New Orleans
to cheer on my Ravens in Monday Night Football!! Thanks Tommy [and Paula]!!
Final score? Bourbon St: 1 Jen: 0
I'll tell you what has definitely improved though, is my run endurance. I can now go out for a 30-40 minute run and actually run the entire thing without walking (disclaimer: the term "run" is used rather loosely here; most would call it a jog, or a walk with a bounce... still, it's a distinct difference in movement from just walking). I'm also enjoying it more, now that I don't feel like death after every workout!
Maybe Ken is right. Maybe I am a runner.